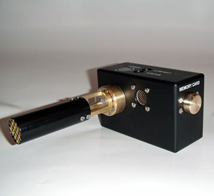 The Parachute Flight Data Recorder (FRD) was designed to measure the flight performance of parachutes both round and square. The FDR measures Barometric Pressure, X,Y,Z-Accelerometer, X,Y,Z-Gyro, Magnetic Heading, Temperature and Humidity, and Indicated Air Speed. Sampling rate is 20 Samples Per Second. Data is stored on a Micro-SD card in a TXT format. The FDR has a rechargeable LiPo battery that will allow recording from up to 8 hours per charge.
One of the unique features about the FDR is its ability to smoothly measure the actual airspeed of the parachute in real time during all points of a maneuver. That is a defining difference compared to other data recorders that use a trailing sensor that can not accurately measure the change in airspeed throughout a maneuver because it is being towed like a skier behind a boat, when the boat turns sharply, the skier slows down, and then is wiped when the slack is taken up abruptly.
The FDR is compact and rugged. The USDA Forest Service Smoke Jumpers currently are using the FDR to document the performance of their parachutes, both manned and dummy dropped. Custom configurations can be designed to meet the requirements of a specific application.
AIR DROP AUTOMATIC PARACHUTE TRIGGER
The ADAPT is the most innovative and intelligent automatic activation device ever conceived. A need for a new, flexible automatic parachute opener was identified thus the ADAPT Project was born.
PARACHUTE FLIGHT DATA RECORDER
Built under contract for the U.S.D.A. Forest Service Smoke Jumpers, the Free Fall Accessories, Inc. Parachute Flight Data Recorder, (PFDR), was designed to measure and record all aspects of descent while under a round or square canopy.
SMALL INSERTION BUNDLE
The Free Fall Accessories, Inc. Small Insertion Bundle System, (SIBS), was developed to provide a means to insert small equipment and survival gear into remote areas, quickly, reliability, and cost effectively. The SIBS can be easily clipped to a load, and static lined from a small aircraft, with little training required.